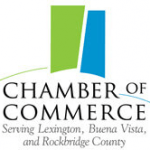 Chamber of Commerce Announces Scholarship Recipients
The Chamber of Commerce Serving Lexington, Buena Vista, and Rockbridge County has awarded its 2023 scholarships to Parry McCluer High School senior Anna Claytor of Buena Vista, and Rockbridge County High School senior Patrick Calomeris of Lexington.
Ms. Claytor was a high-achieving student during her time at PMHS. She ranked 19th out of 81 students in her graduating class, and maintained a GPA of 3.5 throughout. In addition to her academics, Ms. Claytor served the community through the National Honor Society and Teachers for Tomorrow.
Outside of the classroom and community service, Claytor was involved with three sports throughout her high-school career: Varsity Basketball, Volleyball, and Softball. She has received numerous awards for her involvement in sports from the district and the City of Buena Vista.
Mr. Calomeris graduated from Rockbridge County High School, where he devoted much of his time to higher level academics. His course load included many Advanced Placement classes in the field of science, with a focus on Physics, his intended major at college.
Mr. Calomeris has served the community as a certified Lifeguard. He was also heavily involved with sports, participating in Varsity Swimming, Track, and Cross Country. He hopes to give back to the community and potentially start his own business post college.
We want to congratulate both of our scholarship recipients and wish them both the best as they make plans to continue their education this fall. Claytor will attend Virginia Western Community College to major in Radiology Technology. Calomeris plans to attend Stony Brook University to major in Physics.
The mission of the Chamber of Commerce is to champion civic and economic progress for our community. We are thankful to our 2023 sponsors for their generous contributions to our annual scholarship fund. For more information about the Chamber or to search our online business directory, visit us at lexrockchamber.com or call (540) 463-5375.